The
SCIBA
Trade Show and Authors Feast
was last night. It took us nearly three hours to get to the
Biltmore
with an accident, road construction and typical Saturday evening traffic holding us back but we finally arrived!
We had enough time to walk the floor of the
Trade Show
, visit with many wonderful Sales Representatives and page through several fall books which I had not had a chance to see prior,
and
we still had time to mingle, enjoy a cocktail and wander through the beautiful hotel to see what
other events
were taking place that evening.
I was joined by two of my colleagues for dinner:
Lynn
, who most
SCIBA members
recall from her previous position as manager of
The White Rabbit
; and Christina, from
The Book Works
in Del Mar.
Also at our table was a member of the
Harcourt
children's division (also located in San Diego), along with four booksellers representing
Russo's Books
and Newsboy Books & Video
.

The highlight of my night was meeting two of the award nominees (the two that I would've asked to meet if I was able to choose).
Marla Frazee
, whose work I absolutely adore, sat down at Table #12 just before dessert was served (what was that, by the way?). I nearly leaped across the table to shake her hand and gush over her work. She took me by surprise when she mentioned that some of her favorite picture books were
Kane/Miller
titles and I couldn't even begin to think of what to say to her after that, especially since we had to practically yell at one another to be heard.
Lynn was able to introduce me to
Brian Selznick
after the event and I was able to congratulate him after he received his much-anticipated award for his children's novel,
The Invention of Hugo Cabret
.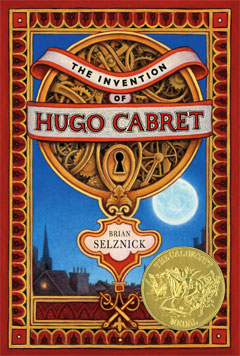 Other award-winners were:
Lisa See
(
Peony in Love
),
Wendy Werris
(
An Alphabetical Life
),
Denise Hamilton
(
Los Angeles Noir
), and
Robin Preiss Glasser
(
Fancy Nancy and the Posh Puppy
), who admitted on-stage that she had a little too much to drink.
It was a wonderful event and I was so pleased to be able to attend and very grateful for the big box of books that I opened early this morning with my son, who insisted that I read him
Bossy Bear
and
Merry Christmas, Mouse!
immediately. (This of course, after he asked me why his babysitter had to leave.)
Welcome home, Mom!